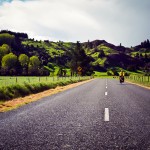 WWOOFing and cycle touring New Zealand - February 4, 2016
Here is another very interesting and inspiring experience by two American WWOOFers who cycled and WWOOFed around New Zealand.  I love reading and sharing these!  Please keep those stories and images coming!  Below Kristen and Jeff's story:
The idea to travel from America to cycletour and WWOOF in New Zealand blossomed from an afternoon looking at an atlas and making excited movements with our arms, into actual plane tickets and taking care of the things you have to do in life to make such an adventure possible. We wanted to experience New Zealand in a deeper, more meaningful way than the average traveller. I was quitting my job to do this! We were missing Christmas with our families! It had to be epic.
And epic it was. Cycling allows you to become immersed in your environment. A person on a bicycle can't pass through the Southern Alps in an afternoon; it takes a few days. I spent hour after hour amazed by the snow capped peaks and thick forest around me. Similarly, WWOOFing lets you experience the land and people in a way you couldn't staying in a backpackers. There is something special about eating food that you helped grow, sharing a meal with a family that has invited you in, and spending your time learning about the environment that surrounds you.
During our week WWOOFing, the sound of the Tasman Sea and cheeky mutterings of weka birds looting our dirt piles for worms accompanied us as we put our backs and arms to work for the first time since we began our cycling journey. We sweated and grunted and stumbled and cursed. But by the end of the day we felt a new sense of accomplishment. No, we hadn't pedaled dozens of miles or climbed thousands of feet, but we could look upon the work we had done, see the physical results, and imagine the benefits to come.
We dug holes. But we didn't just dig holes. We gained knowledge of different soil types (mostly clay and sand). We had up close encounters with local insects and became aware of how greatly entwined into the whole ecosystem they are. We learned about new types of food and where it comes from. We made a space for future feijoa fruit trees that a family will harvest and enjoy. We rebuilt a set of stairs, applying very technical skills such as sawing and pounding. At the end of each day we walked away from a job well done, secretly hoping we had added enough poop to make the holes fertile for growing new trees and that the stairs wouldn't slide away during the first good rain.
The week passed all too quickly and soon it was time to get back on the road, heading towards more breathtaking scenery, our next WWOOFing host, and of course, more of the ups and downs that come along with cycling in a country so hilly. As we raced down the steep driveway I felt exhilarated by the speed and the sense that it was all worth it, that I was making the most of my time on this truly epic journey.
Written by Kristen Waddell, photography by Jeff Arnim.
You can check out more of their work here: slowroad.crazyguyonabike.com!