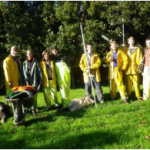 Newsletter - December 17, 2011
Welcome to the Christmas issue of Composte!

I can't believe it's only 39 days until Christmas!  Although this is my 8

th

Christmas on the other side of the world – I still miss the Christmas markets in Europe, log fires and being able to actually see your lights by 6.00pm.  Don't get me wrong I do love the Kiwi Christmas and have fully embraced it, but I guess at this time of the year you miss your family and start thinking about what Christmas was like and meant to you when you were growing up.  So I think this is what a lot of wwoofers will be feeling.  But remembering our first Christmas here, after being in the country for only 2 months, we were invited to a great Christmas party.  The BBQ was fantastic, our kids pretty much ate their whole dinner in the spa pool, everybody was so welcoming and friendly and

I got over my homesickness pretty quickly.  Having experienced kiwi hospitality first hand I know that 'our WWOOFers' are in good hands!Wishing you a great Christmas and a prosperous New Year!

WWOOF and Cultural Exchange List Consultation

An interesting discussion

Is WWOOF for Organic or Non-Organic Farms

? developed on the forum this past August. The discussion was based around the interpretation of what "WWOOF" meant. It was quite rightly pointed out that WWOOF stood for Willing Workers On Organic Farms and so organic farming is fundamental to WWOOF. The Cultural Exchange was launched in 1998 as a separate list. This is so we could keep the WWOOF section true to its principles while also providing some service to those properties that didn't quite fit the organic criteria.

More

WWOOF International Conference 2011

"An-nyoung-ha-seh-yo", not really being sure what to expect when we got to Korea, but certainly having somWWe preconceived ideas –  I must say everything was completely different, in a good way!

On our arrival we found the Korean people to be very helpful and friendly. Our accommodation in Seoul was in a traditional Korean guesthouse, which was just beautiful and really stood out being surrounded by high rise buildings.  WWOOF Korea organised a traditional Korean musical performance followed by a buffet of banquet proportions. After the lunch we made a tour of Gyeongbok Palace and then learnt how to make rice cakes. That evening we went to the Kwongjang Market and saw many interesting things and exotic foods, some of which we had for dinner.  This was a perfect start for the Conference as we had time to get to know each other and also sample the makgeolli (Korean rice wine) before the meetings started the following day.  "Cho-a-yo!"

More

Feedback and Comments System – Review

In mid 2009 an upgrade for www.wwoof.co.nz was launched that included a number of additional features, such as allowing hosts to search for WWOOFers. Since the upgrade members have loaded 13,000 photos. It also had a system that allowed members to add feedback and comments for other members.  The push for this had come mainly from WWOOFers who were asking for independent  comments.  WWOOFers weren't really asking for the good and the bad, they were mainly wanting to hear all about the exciting things other WWOOFers had done while WWOOFing.  As of 11

th

Nov 2011 there have been 4,112 reviews written by members which is a great. Below are some members who have managed to collect many reviews. 

More

Check your WWOOFers!
We have had a few issues with 'problem' wwoofers and unfortunately in some cases hosts didn't take or check their member id,  profiles etc.  I can't stress enough how important this is so that we can act on your behalf.  Plus quite a lot of the time you may find that there are 'rogue' wwoofers out there, in which case there is nothing we can do.  So please make sure you check that the wwoofers coming to stay with you are registered and that you have their number!!!