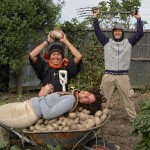 Newsletter - October 25, 2008
From the Coordinator's Desk
New Book: Thanks to all those hosts who replied in time for the printing of the new book in August. This was around 1000 hosts but this is rising steadily as the late replies come in. Those who have missed the printing will go in to the next edition due to be done around Feb 08. Don't panic if you've missed the book! WWOOFers will still be able to find you online.
Website: WWOOFers and Hosts should check that their Introductions/Descriptions are updated with current information. Hosts can look up a WWOOFer and read their "MyWWOOF" Introduction, WWOOFing History, Skills etc. This allows hosts to learn something about their WWOOFer before they arrive. The introduction is a personal statement from the WWOOFer including information such as why they want to go WWOOFing, what their interests are, their background, what they hope to learn and what they can bring to the exchange. We've had a few ideas come in for other MyWWOOF features – development and progress will happen as skills and abilities allow ;- )
Printed vs Online: More and more WWOOF countries are moving to an online WWOOF system. Only about 7 countries, including NZ, still print a WWOOF book. While printing has some negative ecological effects, the printed book is still favoured by hosts and WWOOFers. Often WWOOFers have difficulty getting to a computer while travelling and hosts either don't have a computer or may be reluctant to give free access to their computer because of privacy issues etc.
If you have any comments or feedback and any articles for the next newsletter we look forward to hearing from you. – Andrew, Jane and the rest of the team at WWOOF.
WWOOF WIKI
WWOOF is an open organisation that can mean different things to different people. There are fundamental concepts that must be protected but generally there are not many rules and arrangements can be flexible. When it comes to writing a description of what WWOOF is and writing advice on how to get the most out of WWOOF it seems that it is the members themselves that are the best people to do this.
A Wiki is a document that is written collaboratively online. Anyone can read the document, edit what is written and save the changes. The next reader can then make their own changes. Over time the document becomes a consensus (hopefully!) of everyone's view on what WWOOF is.
To get this started we have set up a basic document with the information that is currently used. Click on the link WWOOF Wiki and start reading. If there is anything to add, change or delete feel free to do so, changes can be undone if needed.
Currently the information includes:
How WWOOF Works, Aims and Goals, Hints and Suggestions, Obligations of Hosts/WWOOFers, Safety on the Farm and History of WWOOF
At the website click on the link WWOOF Wiki. It will be great to have your input and we look forward to reading your ideas. WWOOF
Volunteering in NZ – The Book
Itching for a change, city girl Philippa Jamieson quits her cosy job in Dunedin to travel around New Zealand on the WWOOF scheme (Worldwide Opportunities on Organic Farms). Over the course of two-and-a-half years she volunteers at 40 locations – market gardens, livestock farms, communes – many of which truly lie in the wild and hairy yonder. Along the way Philippa meets a bevy of diverse characters: the irrepressible farm host who's built his own coffin – with a limerick for an epitaph; Green Party co-leader Jeanette Fitzsimons; and many more, not forgetting Thelma the goat. Some of our unsung heroes can be found in these pages: forward-thinking Kiwis who are quietly working away at producing healthy food without toxins, saving heirloom crop varieties, practising self-sufficiency and improving the soil for the next generation. Informative, entertaining and affectionate, The Wild Green Yonder offers inspiration to anyone with a yen for life's positive alternatives, as well as a unique view on where organic farming is at in New Zealand today.
The Author
A lifelong interest in the environment and organic issues has given Dunedin writer and editor Philippa Jamieson material for the articles and book reviews she has had published. Inspired by her wwoofing experiences, she has now joined the national council of the Soil and Health Association of New Zealand. Philippa is also a marriage and civil union celebrant. This is her first book.
Purchase
Available September 2007
$35.00 including postage and packing within New Zealand. Overseas postage by request.
Contact: support@wwoof.co.nz

Cultures Coming Together
The two Japanese boys in the photo [below] are Ryoguke Tsunezumi and Hoji Hasaba, and the Israeli girl on the potatoes is Yamit Harkari. While at Balmoral they dug potatoes, helped with the horses, the meals (making both Japanese and Israeli and kiwi dishes). Yamit began a lovely garden mural on our shed wall, and Hoji and Ryo planted a Japanese garden. The three also worked on a herb garden (with 80 different herbs along our driveway); and Yamit began a special Israeli garden with olives, lemons, and rosemary.
Yamit from Israel wrote:
"I've joined the WWOOF, so i could learn to know NZ better, get to meet people for longer terms than usual, and get to stay in places for longer. i believe in long term relationship with people and landscapes…My interests includes tramping, art, singing and music, and many more. I've studied art and land of Israel studies. I lived most of my life in a kibbutz, and worked in gardening most of my time there. Today I'm living in a socialist community in a town in Israel, which is a commune, with educational projects in town. "
The trio were a delight to have at Balmoral, and the gardens they created are all being enjoyed a year later.
Thank you,
Barry
Kia ora !
I have spent a wonderful time WWOOFing in New Zealand and now reviewing my pictures there is one I particularly like!
Mary from France.
PS : The host on the picture is Irma from Pangototara, Motueka.
————————————————————
"We have had many great experiences and meet some wonderful people over the last year. Its amazing how some of them find a new niche in life and love working with animals or digging in the garden".
Jenny, New Plymouth host
————————————————————
More on the "reviews" debate
Hi Andrew,
One of the great things about the WWOOF system is that it is one of the few things in life still run on goodwill and trust. Our experience as hosts has been great, with only one WWOOFer we really HAD to move on. (We'd always let you know if there was really something dodgy about a WWOOFer.)
I know that WWOOFers are very hesitant to get in touch with you to report bad experiences, so if they knew that all WWOOFers were able to send in confidential assessments they would feel more confident about doing so. If we do go to having some formal assessment of hosts it could be limited to a form filled (on the net or paper) rather than just an opportunity for an emotional rant – good or bad!
For instance:
Was your accommodation (tick the appropriate boxes)
brilliant very good OK poor
Was the food
excellent good OK poor
Did you get enough to eat
Yes / not really / no
Was the work
interesting varied OK boring too hard exploitative
Were the hosts
absolutely wonderful friendly and helpful OK horrible!
Did you enjoy your stay
just great! very much it was OK not much not at all
It might also be interesting to ask a few statistical questions such as how many days they stayed, and whether they have their own transport, use public transport, or hitch hike. I think it should only be available to you at WWOOF Headquarters so that hosts and WWOOFers know their feedback is confidentially handled. This way a picture will be build up where you can see if there is consistently bad feedback about a host and deal with it. This would weed out the odd bit of vindictive feedback or misunderstanding. If you could find the time (!) from time to time you might like to send hosts an overall idea of what their assessments have been like. Sorry this is SO LONG. Best wishes,
Lesley Hill, South Claragh, Taupo countryside
-Thanks for the feedback Lesley. I think most members appreciate the fact that the organisation works primarily on goodwill and trust. Encouraging constructive feedback seems very sensible and it would be worthwhile setting up a system to make this happen. Does anyone have other suggestions? – Andrew
————————————————————
Appeal For Funds
GE Free Northland has driven the campaign in Northland peninsula to get our local authorities to act to protect ratepayers and the environment from GMO land use and to keep our food GE free. We ask for your support so that we can continue to do the work we do, particularly supporting truly sustainable organic primary production. We have incurred significant legal costs to date, and we are seeking donations. Thank you for your support.
Cheques made out to: GE FREE NORTHALND
Postal address: Secretary, GE FREE NORTHLAND, PO Box 1439, Whangarei, Northland
Website: www.gefreenorthland.org.nz
More information: Zelka Grammer
email: zlg@xnet.co.nz
Tel (Whangarei) 09 432 2155
or Martin Robinson Tel. (Kerikeri) 09 407 8650
WWOOF New Zealand is making a donation to support this organisation that does this work on our behalf.
————————————————————
Diana and Diane and Kim trimming the goat's hooves at Andi and Kim's place in the Waikato