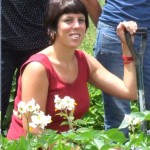 New Staff - July 16, 2008
Hi, many of you may have heard from me, my name's Morganne, I'm a new team member here at WWOOF NZ.
My role in the office involves signing up new WWOOFers and hosts, answering all your questions, keeping track of what's going on in the world of organics and generally maintaining order about the place! I grew up with WWOOFers in the family home, have traveled extensively through NZ and overseas and have WWOOFed a bit too. Besides WWOOF I also have a wee baby to keep me occupied and an ever increasing organic vege garden on my small rural home patch. Currently my partner and I are having a garlic growing competition between his no dig and my double-dig plot. I shall keep you posted on results. I enjoy working in the WWOOF office, being witness to all the exciting developments in sustainable hort/agriculture and helping people to learn more about each other, their planet and the many ways in which we can work together with our environment. .
I look forward to hearing from WWOOFers and hosts and hopefully my own experiences and learning will be help my understanding of your queries, problems, ideas and reflections.
Short Messages from Members
"I think it is a great low impact way to travel and get in touch with the place you are traveling in. Thanks for creating this opportunity."
Eliza Jensen USA
"To see the world through other eyes."
Christiane Meyer- Germany
"Thanks very much for your help and hard work. I'm happily WWOOFing and hope my good experiences will Continue."
Steph
"Interested in sustainable, ecologically sound farming. As a cook I feel its is important to not only use organic food from local farms but have first hand experience growing and caring for the product."
Kevin USA
Interactive Webspace Research
Derry Nairn is a WWOOFer from Ireland conducting academic research into the movement's use of internet technologies. He has been a WWOOFer in New Zealand and Japan and would like to survey hosts and WWOOFers for research in to interactive webspaces.
If you are interested in taking part you can find the link on "WWOOF News" at www.wwoofinternational.org. This fits in with our aims of developing social networking amongst WWOOF members.
Organic Courses
DIRT DOCTOR
www.dirtdoctor.co.nz
Half Hour Urban Eden
How to create a highly productive home garden that will feed a family of four….
…. in just half an hour a week.
Compost
How to create a high quality rich compost from readily available resources.
Changing Lives
Hi, we loved New Zealand!!!! We had almost decided to settle in your country but finally we came back home but maybe one day, we will come back. We just loved the Kiwis, their way of life, their friendliness and their spontaneity. And also, that is where I discovered wwoofing. So, we spent 4 months in your country and have been wwoofing in 6 different places, staying from one week to a month. A word first about the booklet. We found it very informative, especially the proportion of organic food which allowed us to know how self-sufficient the family was.
We had a great first experience at a Swiss-Scottish family in Inglewood that have moved to Switzerland by now.
We loved our time at the place of a large family of German origin living in a remote valley near Murchison, called the Herwitch family. We had a wonderful time with this very harmonious and happy family living a self-sufficient life. We stayed only a week but this week seemed to us like a month for it was so rich of experiences, discussions and learning. They really were living the way they thought. (not just like French people pretending to be green but not wanting to change anything about their comfortable lives).
Also, we spent a whole month near Takaka, at the entry of Kahurangi National Park. We helped the owner, a woman of Quebec origin, take car of her trees, her
kitchen garden, try not to be overwhelmed by gorse in her huge land and did up a few things too and as a reward, we could spend time talking with her and making the most of the extraordinary views from the balcony of our "private wooden house". This woman is really something!
So, we think woofing in New Zealand is greatly organized and offer plenty of different farms suiting all kinds of people and also the booklet is really well done, complete and informative and it allows us to select the farms according to what we are looking
for.
To finish, these wwoofing experiences have transformed and enriched us. We are now downshifting, I am working in a small place making organic jams in a very small proportion, have just started a little kitchen garden in a friend's garden and are supporting community supported agriculture by having a basket of vegetables every week and think of having a farm of our own one day (maybe when the stockmarket will have collapsed)!
I hope that our little report will be read! (at your festival maybe!)
Cheers, Marie-Eve and Bertrand,
France